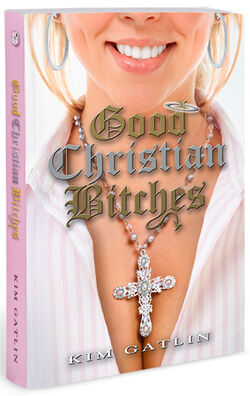 Good Christian Bitches is a novel by Kim Gatlin. The story has been turned into a television show on ABC called Good Christian Belles. The show was originally going to be named after the book, but many critics thought it to be very inappropriate, so ABC made the change to Good Christian Belles. [1]
Description
Edit
"The GCBs of Hillside Park Presbyterian are praying for Amanda Vaughn--or so they claim. Will their evil gossip destroy her reputation, or will she show them exactly how to turn the other cheek
Amanda Vaughn needs some heaven-sent help. She's divorced her cheating husband and fled, along with her two teenagers, back to her hometown, Hillside Park, a Dallas suburb so upper-class that the question isn't where to bank, but whose family owns the bank. Amanda is thrilled to be back in Texas—after twelve years in Southern California, she's ready to leave behind her shallow, Godless life and return to the welcoming Christian world where she grow up. Or at least that's the plan . . .
But when she arrives, she's met with some Texas-sized trouble. Her old friends, neighbors, and fellow church members treat Amanda like a long-lost friend . . . until her back is turned. Then the claws come out. Amanda finds herself trapped in a world of salacious rumors, secret affairs, and Bible-study sessions gone terribly wrong. And what's even more puzzling is that a secret admirer is sending Amanda lavish gifts. Why, she wonders, would anyone send a Mercedes when a simple dinner invitation would do?
Packed with schemes, drama, and a Southern setting more fun than a barbecue at Southfork, Good Christian Bitches has humor, sass, and an unforgettable cast of characters." [2]
External Links
Edit
References
Edit